Click the link below the picture
.
A new island emerged from the ocean offshore of the city of Gwadar, Pakistan, after a strong magnitude-7.7 earthquake shook the country on Sept. 24.
The mound appears to be 20 to 40 feet (6 to 12 meters) high and 100 feet (30 m) wide, DIG Gwadar Moazzam Jah, a district police officer, told Pakistan's Geo News. It rose out of the sea at a spot located about 350 feet (100 m) from the coast, he said.

The news sparked lively chatter among geologists, who debated whether the hill was a landslide, a fault scarp or even a hoax. A fault scarp marks vertical displacement along a fault, anything from a small step to a huge, steep cliff.

Scientists are still far from consensus, but many think that Pakistan's newest piece of land may be a mud volcano.
Geologist Bob Yeats, an expert on Pakistan's earthquake hazards, said he's waiting until he hears from his colleagues in Pakistan (it's currently night there) before judging the case. The two most likely possibilities are a landslide or a mud volcano, Yeats told LiveScience's OurAmazingPlanet.
.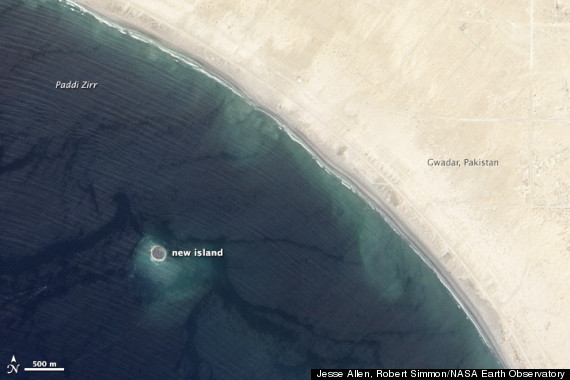 On September 26, 2013, NASA's Earth Observing-1 (EO-1) satellite captured this image of a new island off the coast of Pakistan. The "mud island" rose from the seafloor near Gwadar on September 24, shortly after a magnitude 7.8 earthquake rattled the Balochistan province of northwestern Pakistan.
.
.
Click the link below for the article:
.
__________________________________________