Click the link below the picture
.
The Davis-Schrimpf seep field is located about 40 miles (64 kilometers) southeast of Palm Springs, Calif., at an elevation of 230 feet (70 meters) below sea level. Here, carbon dioxide gases gurgle to the surface as a result of a magma zone found 1 mile (1.6 km) below the Earth's surface cooking the gas from carbonate minerals.

Over 50 mud volcanic features are found in this seep field, including gryphons, gas vents, salses, mudpots, and springs all located within a 2-square-mile (5-square-km) area.

Gryphons are small earthen mounds built by the eruptions of mud volcanoes. The fluids that create the gryphons are powered by hydrothermal carbon dioxide gas mixed with near-surface brines and are merely warm to the touch rather than hot.

The viscosity of the mud extruding from a specific mud volcanic vent will help determine the height that each gryphon grows to. The amount of escaping carbon dioxide gas also influences the erupting power of the mixture and thus how high the small mountain of mud will grow.
.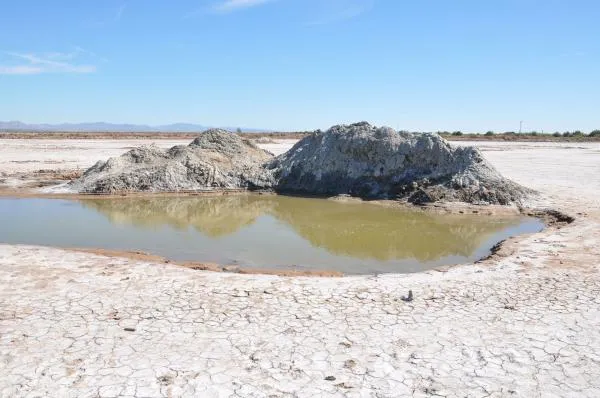 (Image credit: Linda and Dr. Dick Buscher.)
.
.
Click the link below for the article:
.
__________________________________________