Click the link below the picture
.
It's not unusual to hear that a particular military technology has found its way into other applications, which then revolutionized our lives. From the imaging sensors that were refined to fly on spy satellites to advanced aerodynamics used on every modern jetliner, many of these ideas initially sounded like bad science fiction.

So did this one.

Consider the following scenario:

To defend the United States and Canada, a massive array of interconnected radars would be set up across the two nations. Connected by high-speed links to a distributed network of computers and radar scopes, Air Force personnel scan the skies for unexpected activity. One day, an unidentified aircraft is discovered, flying over the Arctic and heading toward the United States. A quick check of all known commercial flights rules out a planeload of holiday travelers lost over the Northern Canadian tundra. At headquarters, the flight is designated as a bogey, as all attempts to contact it have failed. A routine and usually uneventful intercept will therefore fly alongside to identify the aircraft and record registration information.

Before the intercept can be completed, more aircraft appear over the Arctic; an attack is originating from Russia. Readiness is raised to DEFCON 2, one step below that of nuclear war. Controllers across the country begin to get a high-level picture of the attack, which is projected on a large screen for senior military leaders. At a console, the intercept director clicks a few icons on his screen, assigning a fighter to its target. All the essential information is radioed directly to the aircraft's computer, without talking to the pilot.
.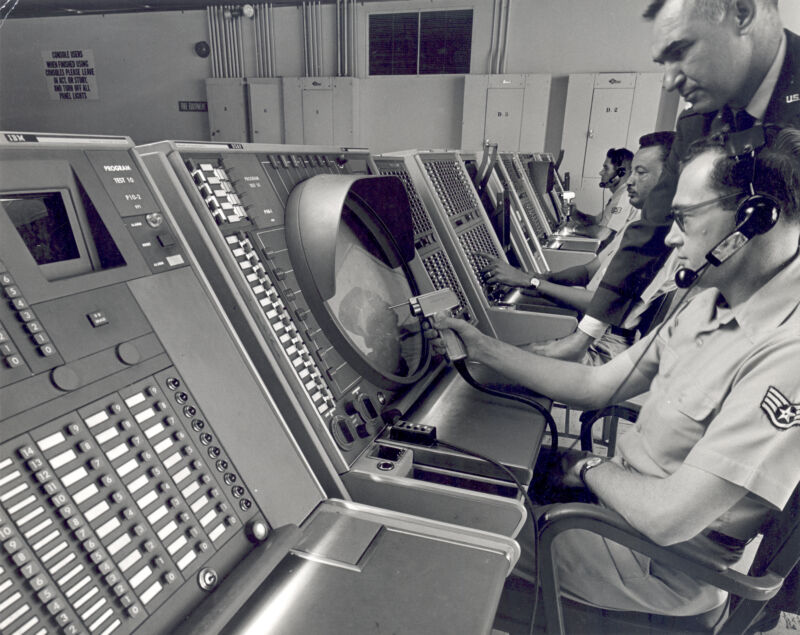 Airmen operating SAGE radar consoles.
.
.
Click the link below for the article:
.
__________________________________________