Click the link below the picture
.
I don't watch films," says Werner Herzog. "People always believe that a film-maker would have seen hundreds or thousands of films – if you have a man like Scorsese, for example, he has his own projection room and his own 35mm copies, or [Peter] Bogdanovich, or some of the French film-makers. They keep watching movies. I don't. I see about three films per year."

What he does do is read. "There is practically no day where I do not read. I'm not out for inspiration, I'm just interested in certain things." Recently, he has been fascinated by ancient Greek historian Diodorus Siculus's account of Alexander the Great's father, Philip II of Macedon. "If you take the wildest Brazilian soap opera it cannot match Diodorus Siculus."

He might not watch many movies, but the German director has made some of the most striking films in cinema history. In addition to his famed fiction, his documentaries have covered a dizzying array of subjects: aeronautical engineering, opera, death row, Antarctica, the internet. Fireball, his latest, looks at how meteors have shaped human culture and civilization through the ages.

The issue with most documentaries, says Herzog, is that they "have not divorced [the medium] from journalism. They are very often 'issue films' about a social problem, and there has to be redemption and hope at the end. I don't like this kind of cinema." On the other hand, those that aspire to the realism of cinéma vérité "cannot really claim vérité [truth] – that's silly and I don't believe in it".
.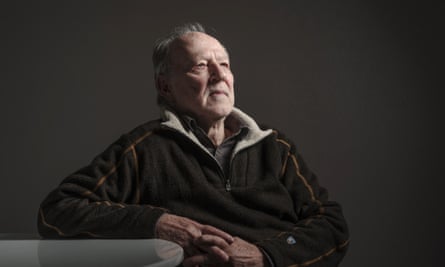 Werner's original … Herzog ponders the mysteries of the universe.

Photograph: Bloomberg/Getty
.
.
Click the link below for the article:
.
__________________________________________