Click the link below the picture
.
In modern times, clocks underpin everything people do, from work to school to sleep. Timekeeping is also the invisible structure that makes modern infrastructure work. It forms the foundation of the high-speed computers that conduct financial trading and even the GPS system that pinpoints locations on Earth's surface with unprecedented accuracy.

But humans have likely lived by some version of the clock for a very long time. The ancient Egyptians invented the first water clocks and sundials more than 3,500 years ago. Before that, people likely tracked time with devices that did not survive in the archaeological record—such as an upright stick in the dirt that acted as a primitive sundial—or no device at all, says Rita Gautschy, an archeoastronomer at the University of Basel in Switzerland.

"It's really difficult to get a grip on when people started with timekeeping," Gautschy says. Simply by observing the location of the sunrise and the sunset each day and by watching how high the sun reaches in the sky, a person can construct a primitive calendar. These early human efforts at understanding the flow of time left no trace at all, she says.
.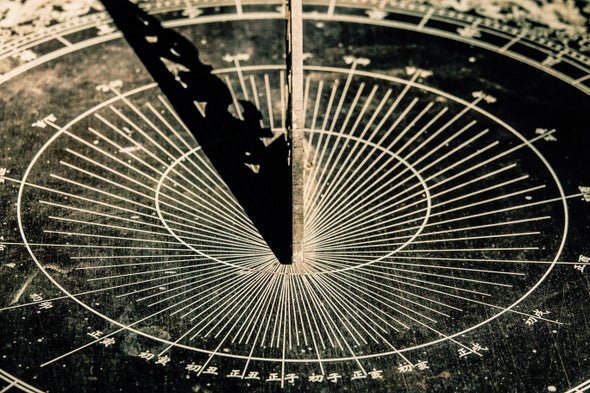 An ancient Chinese sundial is located at the Beijing Ancient Observatory in China. Credit: Penn Song/Getty Images
.
.
Click the link below for the article:
.
__________________________________________