Click the link below the picture
.
A new simulation of millions of galaxies has shown just how powerful the forthcoming Nancy Grace Roman Space Telescope (Roman) will be when it opens its eye to the universe. 

NASA says that the telescope will turn back the "cosmic clock" and allow astronomers to see space in a way they never have before. This should help scientists understand how the universe evolved from a sea of densely packed particles into the cosmos we see today full of stars and galaxies.

Set to launch no sooner than May 2027, Roman's power to revolutionize astronomy lies in the fact that it will have the ability to capture vast regions of space in a single image. As a startling example of this boosted observing power, the simulation demonstrates how in just 63 days Roman can image an amount of sky that it would take the Hubble Space Telescope 85 years to capture. 

The real benefit of the Nancy Grace Roman Space Telescope will be felt when it is teamed up with its fellow space telescopes, with Hubble able to see a broader spectrum of light and the James Webb Space Telescope (JWST) offering deeper observations."The Hubble and James Webb Space Telescopes are optimized for studying astronomical objects in-depth and up close, so they're like looking at the universe through pinholes," leader of a study describing the simulation and postdoctoral fellow at NASA's Goddard Space Flight Center in Greenbelt, Maryland, Aaron Yung, said in a NASA statement (opens in new tab). "To solve cosmic mysteries on the biggest scales, we need a space telescope that can provide a far larger view. That's exactly what Roman is designed to do."
.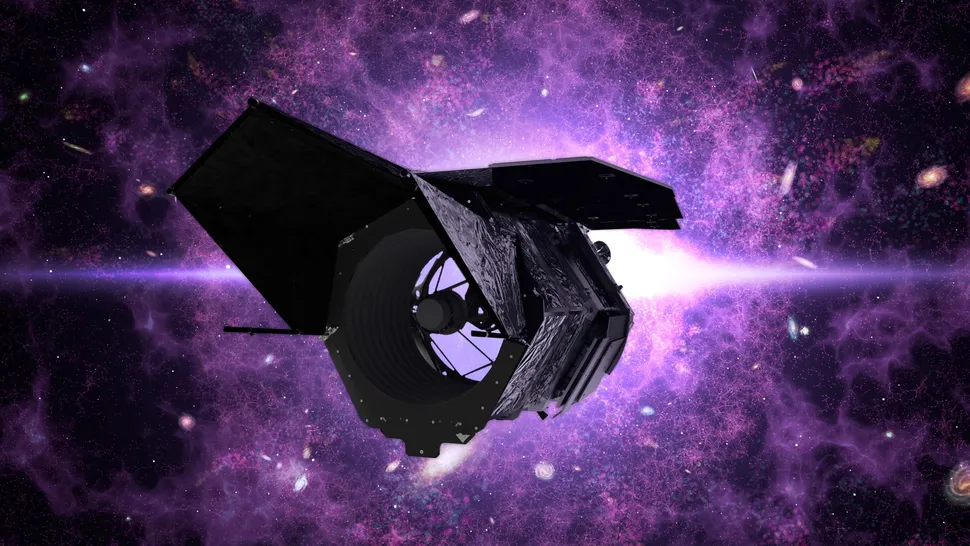 An illustration of the Nancy Grace Roman Space Telescope in deep space. (Image credit: NASA)
.
.
Click the link below for the article:
.
__________________________________________