Click the link below the picture
.
As a teenager, I remember being moved almost to tears by the sound of a family member chewing muesli. A friend eating dumplings once forced me to flee the room. The noises one former housemate makes when chomping popcorn mean I have declined their invitations to the cinema for nearly 20 years.

I am not proud of myself for reacting like this – in fact, I am pretty embarrassed – but my responses feel unavoidable. It is probable that I have misophonia. According to a forthcoming scientific paper from King's College London, so do 18% of people in the UK.

Otherwise known as "sound rage", misophonia is "a decreased tolerance to certain sounds" says Dr. Jane Gregory, a clinical psychologist at the University of Oxford who co-authored the paper and counts herself among the 18%.

Sound triggers are usually repetitive, she says. It is not about "the volume of the sound or necessarily the acoustic pattern", but what it means to the observer. Eating sounds are most commonly reported, closely followed by so-called throat sounds. (Gregory is driven spare by the sound of pigeons.)
.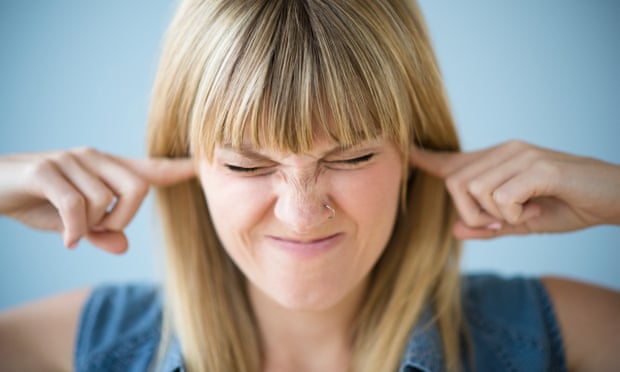 Woman blocking ears with fingers Photograph: Jamie Grill/Getty Images/Tetra Images RF
.
.
Click the link below for the article:
.
__________________________________________