Click the link below the picture
.
An intense jet of energy in space appears to be traveling seven times faster than the speed of light—a feat that is considered physically impossible in our universe. Though this rapid pace is only an optical illusion, according to a new study, it still represents a blast of energy shooting towards us at very nearly the speed of light. 

The Hubble Space Telescope (HST) has captured incredible views of the jet—which was ignited by an unprecedented collision between two hyperdense objects, called neutron stars—that led to one of the most important breakthroughs in astronomical history at the time it was discovered in 2017.

While the jet did not actually break the cosmic speed limit, it raced right up to the edge of this impassable threshold, reaching at least 99.97 percent of the speed of light, which translates to about 670 million miles per hour. Scientists led by Kunal Mooley, an astrophysicist at the California Institute of Technology, used Hubble and other telescopes to clock the jet's "superluminal motion," meaning the trippy illusion of faster-than-light speed, in a study published on Wednesday in Nature. 
.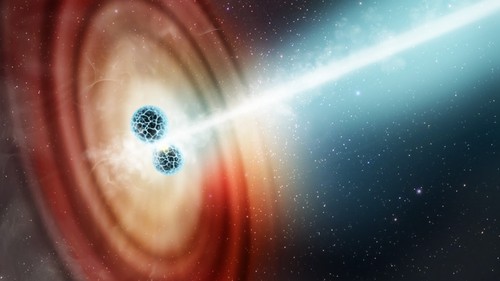 Image: Concept art of the neutron star merger and jet. Image: Elizabeth Wheatley (STScI)
.
.
Click the link below for the article:
.
__________________________________________