Click the link below the picture
.
A blazing gas giant shrouded in dusty red clouds has been revealed in unprecedented observations of a planet beyond our solar system.

The observations, which astronomers said marked a "historic moment for astronomy", are the first direct images of a planet beyond our solar system by Nasa's $10bn (£8.65bn) James Webb space telescope. They are also the first images of an exoplanet using infrared light, which gives a far more precise indication of a planet's mass and temperature and will allow astronomers to detect the movement of clouds drifting across the planet's sky.

"This is really a historic moment for astronomy," said Prof Sasha Hinkley, an astronomer based at the University of Exeter, who co-led the observations. "James Webb is going to open the door to a whole new class of planets that have been completely out of reach to us and by observing them at a broad range of wavelengths we can study their compositions in a much more in-depth way.

"We will be able to detect the presence of weather."

Directly imaging exoplanets is a huge technical challenge because the host star is so much brighter. The focus of the latest observations, HIP 65426 b, is a gas giant about five to 10 times the mass of Jupiter located 385 light-years from Earth in the Centaurus constellation.
.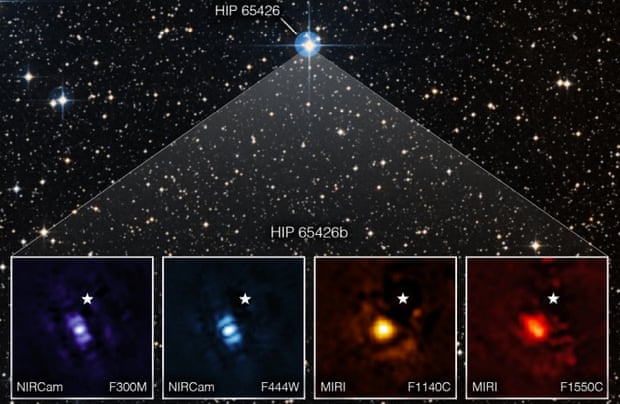 An image shows the exoplanet HIP 65426 b in different bands of infrared light, as seen from the James Webb space telescope. Photograph: Nasa/ESA/CSA, A Carter (UCSC), the ERS 1386 team, and A. Pagan (STScI)
.
.
Click the link below for the article:
.
__________________________________________