Click the link below the picture
.
You've almost — almost — gotta respect former first lady Melania Trump, if for nothing else than the sheer obstinate shamelessness embodied in her ongoing stab at digital relevance. Was the world clamoring for a Melania line of NFTs (a platform already riddled with grift and irrelevance) to begin with? Of course not. But here she is, selling them anyway — and not only that but also allegedly sampling from her own stash to the tune of multiple tens of thousands of dollars.

Why? Who can say? Truly, who can ascribe any sense of reason or logic to anything that family does? Whatever the reason for her steadfast commitment to her burgeoning line of beep-boop sales, it seems Trump's first major NFT sale has been tainted by allegations of (gasp!) shady dealings (oh no!) in what is usually such a stable, aboveboard field.

According to analysis from Bloomberg's Crypto desk, the winning bid of around $180,000 for last month's "Head of State" collection was the result of a series of transactions originating from a crypto wallet associated with the very company that helped Trump list the offering in the first place. Suspicious, no?

Per the Trump camp, there's nothing untoward happening here. Just hundreds of thousands of dollars worth of unregulated funds sloshing around "on behalf of a third-party buyer" who really, really, really wanted to own: "a White Broad-Brimmed, High Blocked Crown Hat, worn and signed by Melania Trump, Watercolor on Paper, signed by Melania Trump and Marc-Antoine Coulon," and "Digital Artwork NFT with Motion, signed by Melania Trump and Marc-Antoine Coulon."
.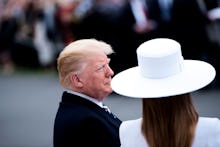 The former first lady's NFT grift marches on, unfazed by allegations of double-dipping and also of being a tacky waste of everyone's time.
.
.
Click the link below for article:
.
__________________________________________