Click the link below the picture
.
I can venture a guess that not everyone in your friend circle is at exactly the same socioeconomic level. Because this is natural, a very fascinating financial phenomenon can occur The platonic sugar daddy. When one person in the relationship has a lot more resources than another, it can seem like the friend who pays for everything is always giving generosity and never receiving it. But relationships aren't that clear-cut. Most psychologists agree that there is a sophisticated economic interplay in relationships that involves more than money. But how do you keep a friendship emotionally balanced even if it's economically off-kilter?

"The thing with generosity is that it is an outflow," says Ian Sells, an entrepreneur in California who is the most "financially blessed amongst his friend group. "You give because you enjoy doing it. If you give because you expect something in return, that's not friendship. That's a business." Sells explains that he ends up paying for a lot of extra things in his trio of close friends — a defacto non-sexual sugar daddy if you will — but that he doesn't mind.

Sells doesn't see this as emotionally complicated at all — Sells pays for more things because he can. Sells doesn't describe his generosity as part of his love language, but some people do consider gift-giving their primary love language. For those folks, it doesn't just feel good to give, they really need it to feel like they're doing their part in the relationship.

Honestly, I thought when I wrote this that I would talk to a lot of people who were secretly resentful about having to pay for everything with their friends, but that wasn't the case at all. In fact, although Sells has a particularly charming humble attitude about sharing his resources, most sugar daddies I talked to felt similarly. It was the friends who had less who seemed to have more complicated feelings about their mixed-status relationships.
.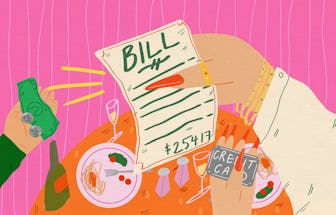 Does it matter if one friend constantly foots the bill?
.
.
Click the link below for the article:
.
__________________________________________