Click the link below the picture
.
Stephen Hawking, one of the world's most renowned theoretical physicists has said that the likelihood of Earth facing a man-made disaster was a "near certainty" within the next thousand to ten thousand years.

According to Hawking, famous for his work in black holes and quantum mechanics and the author of A Brief History of Time, the calamity — whatever it may be — will likely be the result of an uncontrolled consequence of human science and technology.

"We face a number of threats: nuclear war, global warming, and genetically engineered viruses," he said during the BBC's annual Reith Lectures on Jan. 7, the Telegraph reported. "Although the chance of a disaster on planet Earth in a given year may be quite low, it adds up over time, becoming a near certainty in the next thousand or ten thousand years." 

In a cosmic silver lining, Hawking said that he was optimistic that by the time of any mega virus or nuclear holocaust, humans were likely to be safely ensconced in colonies around the universe, shielding the race from total extinction when the hammer falls. 

"By that time we should have spread out into space, and to other stars, so it would not mean the end of the human race," he said. "However, we will not establish self-sustaining colonies in space for at least the next hundred years, so we have to be very careful in this period."
.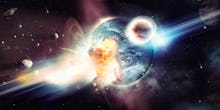 .
.
Click the link below for the article:
.
__________________________________________