Click the link below the picture
.
I call it my arch enemy. It's located at the base of my big toes.

There lies, on each foot, a bunion: protrusions of bone that make my toes bend inward at weird, sharp angles and give my feet the rough overall shape of diamonds. They sometimes hurt, sometimes don't fit into shoes. They are always repellent to look at.

Bunion shame is real. One year, before the family Hanukkah party, my mom — who also has bunions — politely suggested I put on socks so I wouldn't force relatives to witness my feet.

The summer my friends all bought gladiator sandals, I couldn't partake: My feet wouldn't fit through the straps. The salespeople would frown and attempt, half-heartedly, to convince me the straps would "stretch out."

In high school, my then-boyfriend was so perplexed by the way my left bunion jutted out my foot, he measured the angle with a protractor.

And in college, midway through a conversation with a friend, I watched a look of horror explode on her face. "What happened? Why is it so swollen?" she asked, pointing with a trembling finger down to my flip-flop-clad foot.
.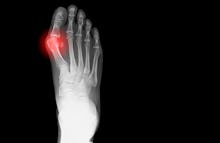 Ouch
.
.
Click the link below for the article:
.
__________________________________________