Click the link below the picture
.
Having sex and getting high are two fun things to do separately — but they're even more fun to do at the same time. There are real-deal psychological and physiological benefits of a quick toke — or nibble or spray — before climbing into bed.

If you're in the right headspace for it, sex with a head full of cannabis is great. It's been shown that cannabis can act as an aphrodisiac, strengthening orgasms in women and boosting libido. "Sometimes when couples smoke marijuana, they take more time to have a fuller sensual experience and slow down, which would allow more time for vasocongestion (blood flow to genitals) and myotonia (muscular tension)," sex therapist Ian Kerner previously told Mic. He said weed can cause couples to feel "relaxed, comfortable and sexy, [which may] lead to a higher quality of orgasm."

It's all in your head: When it comes to sex and biology, men tend to obsess over erectile dysfunction. Drugs like Viagra and Cialis can fix the physiological symptoms, but the root problem is often psychological: stress and anxiety. "The mentality for men is that they just need a pill and that will solve all the psychological issues, but that doesn't work," Dr. Jordan Tishler, a cannabis therapeutics physician for Inhale MD, told Mic. "Whatever the psychological causes of the dysfunction or inability to make intimate contact, women are more willing to discuss above-the-neck issues than men."

Cannabis, unless taken in excessive doses, is known to help curb stress and anxiety. Why and how it affects the brain isn't talked about as much. 

Your body actually makes cannabinoids in a part of your brain and nervous system called the endocannabinoid system, which helps regulate our stress and anxiety levels. THC, marijuana's champion psychoactive ingredient, is chemically similar to a brain chemical called anandamide — better known as our body's natural marijuana — that makes us less anxious.
.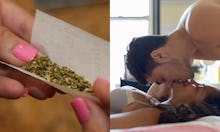 Hmmm…
.
.
Click the link below for the article:
.
__________________________________________