Click the link below the picture
.
Thanks to a scientific breakthrough from Stanford University electrical engineers, the latest sci-fi gadget turned reality is a "tricorder," a la the Star Trek device that lets users (like medical everyman Dr. Leonard McCoy) diagnose illnesses from a few inches away, doing away with invasive pricks and pokes.

While it isn't a spitting image of Star Trek's fictional technology (it isn't the 24th century yet), the concept, called "noncontact thermoacoustic detection" in the team's Applied Physics Letters paper, could detect early-stage cancers with electromagnetic energy. The idea is that tumors grow additional blood vessels to continue growing and that growth would show up as "hot spots" on an ultrasound.

It could also be used to detect plastic explosives used to booby trap roads in war zones. As Stanford's Tom Abate writes, the microwaves produced by the device would heat a muddy patch of ground where there might be a bomb, causing the mud to expand and "squeeze" the explosive, generating ultrasound signals that reveal the presence of the explosive — all from a safe distance.

Assistant professor Amin Arbabian and Professor Butrus Khuri-Yakub, who led the Stanford research team, began work on the project after the Defense Advanced Research Projects Agency, a U.S. military research and development branch tasked with finding cutting-edge innovation in military technology, was looking for a way to detect buried non-metallic explosives without coming in contact with the ground above them. Current detection methods can't locate plastic explosives, and anything that touches the surface would make the bomb blow up. 
.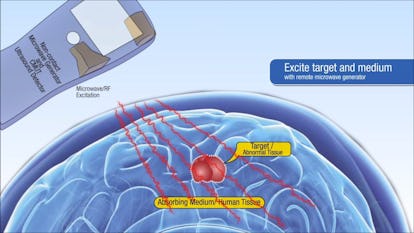 YouTube
.
.
Click the link below for the article:
.
__________________________________________