Click the link below the picture
.
Ever spawning COVID variants have made the past two years exhausting, to say the least. I am so tired of worrying about how some tiny bizarre mutation to the spike protein of this itsy bitsy virus-cell could affect me. Big Pharma recently tried to console us with promises of variant-specific vaccines, but they aren't coming fast enough to keep up with the Greek alphabet of COVID terror. Thankfully, some forward-thinking scientists are working on a universal COVID vaccine.

"You don't want to play this whack-a-mole approach. This could go on forever," David Martinez, a viral immunologist at the University of North Carolina at Chapel Hill, told the Washington Post. Martinez is working with other scientists at UNC to develop a vaccine with "chimeric spikes." What that means is that, instead of using the spike protein of just one coronavirus to create a vaccine, they are using a cocktail of variants that have different spike protein mutations. The idea is that it will be more difficult for new strains to evade a vaccine that uses this multi-pronged approach, according to the Washington Post.

In case you're not a microbiologist, an analogy might be helpful here. Vaccines work by teaching our bodies to recognize and defend itself against invading viruses by showing them what potentially dangerous viruses look like. One of the problems we've encountered with coronavirus is that it changes so quickly that by the time our bodies are exposed to a new mutation, it looks very different from what the vaccine showed us, so our bodies don't know how to fight it.
.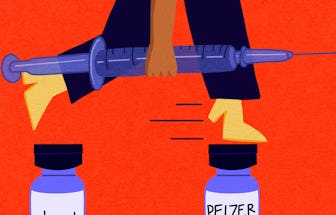 Maxine McCrann
.
.
Click the link below for the article:
.
__________________________________________