Click the link below the picture
.
There's surely only one thing that unites Russian composer Igor Stravinsky's Rite of Spring, the 1974 comedy-horror Young Frankenstein, and The Muppets' most recent special on Disney+. Regrettably, it is not Kermit the Frog. The thing that appears in all of these works has no easily recognizable familiar name, although it is perhaps one of the most recognizable three-beat musical phrases in history. It starts with a dun; it continues with a dun; it ends with a duuun!

On-screen, a dramatic "dun, dun duuun" has appeared in everything from Disney's Fantasia to The Fresh Prince of Bel-Air to The IT Crowd. In 2007, a YouTuber scored a video of a melodramatic prairie dog with the three beats, earning over 43m views and a solid place in internet history. Yet though many of us are familiar with the sound, no one seems to know exactly where it came from. Try to Google it and … dun, dun, duuun! Its origins are a mystery.
Taken together, these three duns are what's known as a sting – a brief bit of music that media producers can use to break up the action or punctuate a theatrical moment. While today's dun dun duuuns are often employed jokingly to parody the dramas of days gone by, the suspenseful sound was once legitimately used to frighten and thrill.

"One of the challenges of radio – and it's the same now as it was 100 years ago – is how do you hook the listener?" says Richard Hand, a media professor at the University of East Anglia and author of Terror on the Air! Horror Radio in America, 1931-1952. Alongside orchestral stings, sound effects such as clock chimes, claps of thunder, and whistling wind were used to grab the audience's attention in the early days of radio, as the medium has always invited multitasking."Those dramatic organ stings could have a powerful effect."
.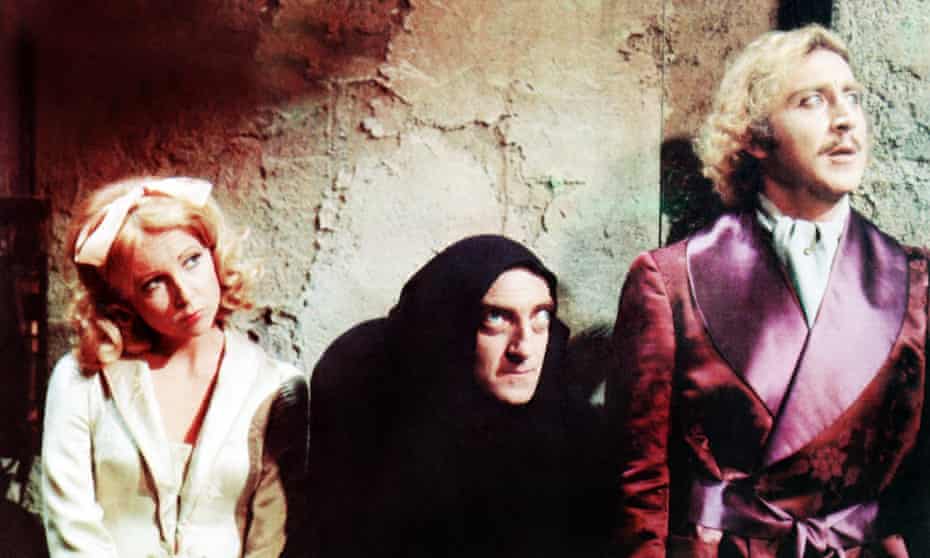 Teri Garr, Marty Feldman and Gene Wilder in Young Frankenstein. Photograph: Everett/Rex/Shutterstock
.
.
Click the link below for the article:
.
__________________________________________