Click the link below the picture
.
Just two weeks ago, the National Oceanic and Atmospheric Administration (NOAA) raised the alarm about the terrible plight facing the Earth's coral reefs. For the third time in history, the world is in the midst of a global coral bleaching event, the agency said.
"We are losing huge areas of coral across the U.S., as well as internationally," said Mark Eakin, NOAA's Coral Reef Watch coordinator, citing climate change and events like the current El Niño as primary reasons for the mass die-off.

A new study published this week is bringing even more bad news about the world's dying corals. According to researchers, there may be another, oft-overlooked threat to reefs worldwide: sunscreen.

Scientists who conducted their research in Hawaii and the U.S. Virgin Islands found that the chemical oxybenzone — used in more than 3,500 sunscreen products worldwide, including those by popular brands such as Coppertone, L'Oreal, and Banana Boat — was extremely harmful to fragile coral reefs.

"The chemical not only kills the coral, it causes DNA damage in adults and deforms the DNA in coral in the larval stage, making it unlikely they can develop properly," a news release reported.
The researchers said even a tiny amount of oxybenzone-containing sunscreen can damage corals. As The Washington Post noted, "the equivalent of a drop of water in a half-dozen Olympic-sized swimming pools" was sufficient to cause harm.
.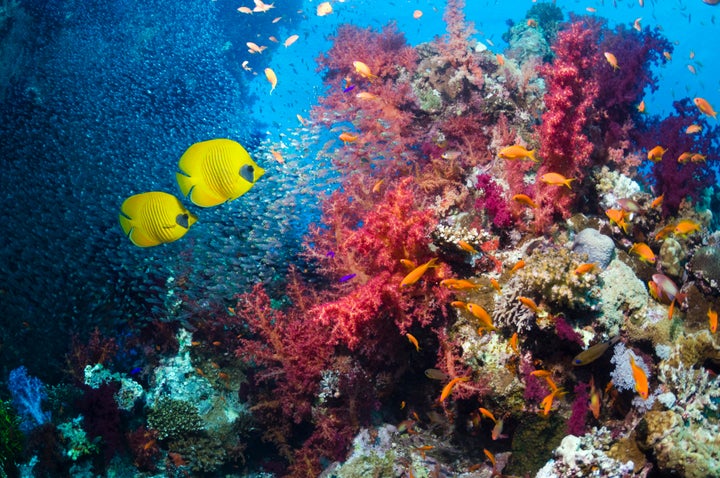 A new study says sunscreen may be damaging the planet's coral reefs.
Credit: Georgette Douwma/Getty Images
.
.
Click the link below for the article:
.
__________________________________________