Click the link below the picture
.
The Rosetta spacecraft has detected water coming off comet 67P, the rubber duck-shaped lump of ice and dust that it placed the Philae robotic lander on last month.

The presence of water is not a surprise, but what has wrong-footed researchers is the makeup of the water, which is nothing like that seen on Earth.

Measurements from Rosetta's Rosina instrument found that water on comet 67P /Churyumov-Gerasimenko contains about three times more deuterium – a heavy form of hydrogen – than water on Earth.

The discovery seems to overturn the theory that Earth got its water, and so its ability to harbor life, from water-bearing comets that slammed into the planet during its early history.

Comet 67P is thought to have come from what is called the Kuiper belt, broadband of frozen bodies that begins beyond the orbit of Neptune. The main asteroid belt contains more rocky objects that circle the sun between the orbits of Mars and Jupiter.
.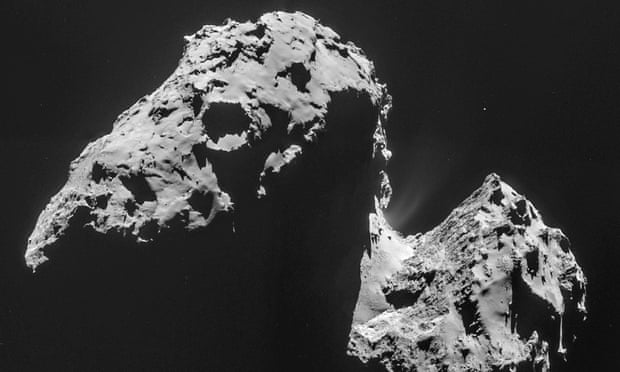 The makeup of water on comet 67p has wrongfooted researchers. Photograph: AP
.
.
Click the link below for the article:
https://www.theguardian.com/science/2014/dec/10/water-comet-67p-earth-rosetta
.
__________________________________________