Click the link below the picture
.
The center of the Milky Way may be even more bizarre than astronomers thought, according to a new study.

For the study, a team of researchers from the Chinese Academy of Sciences in Nanjing investigated a map of radioactive gamma-rays — the highest-energy form of light in the universe, which can arise when extremely high-speed particles called cosmic rays crash into ordinary matter — blasting in and around the center of our galaxy.

The map revealed that something near the center of the galaxy appears to be accelerating particles to mind-blowing speeds — very near the speed of light — and creating an abundance of cosmic rays and gamma-rays just outside the galactic center. However, even as the galactic center blows a constant storm of high-energy radiation into space, something near the Milky Way's core prevents a large portion of cosmic rays from other parts of the universe from entering, the team reported Nov. 9 in the journal Nature Communications.
.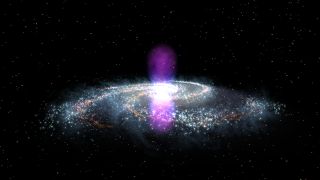 An artist's impression of the Milky Way's center, using data from the Fermi Gamma-Ray Space Telescope. (Image credit: NASA Goddard)
.
.
Click the link below for the article:
.
__________________________________________