Click the link below the picture
.
As we inch closer to the heart of winter, many Americans are starting to prepare for the worst. Maybe you're adjusting your thermostat more often or preparing your garage for cold weather conditions.

Among the terms used to describe wintery weather, the most dreaded might be "polar vortex." The ominous term sounds like some earthly black hole trying to kill us with Arctic air. So what exactly is a polar vortex, and why do we keep hearing about it year after year?

The term "polar vortex" dates back to at least 1853, but names for the phenomenon shifted when scientists began to study it in earnest in the 20th century. The term was revised in 1950 when it was called a "circumpolar vortex," then back to "polar vortex" by 1959. The American Meteorological Society glossary revised the definition in 2000, 2014, and then again in 2015.

The reason these changes keep happening is that the term "polar vortex" actually describes two types of cold weather events. One happens in the troposphere, the lowest layer of the earth's atmosphere, while another happens higher up in the stratosphere. Basically, it's a frigid cyclone.
.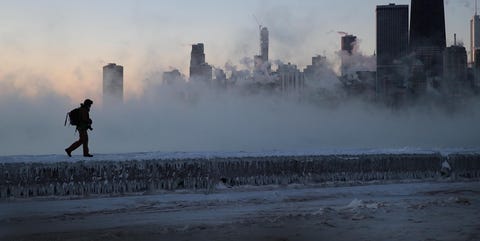 .
.
Click the link below for the article:
.
__________________________________________