Click the link below the picture
.
A few years ago researchers using the radio-based Event Horizon Telescope (EHT) performed an extraordinary observation, the likes of which remains a dream for most other astronomers. The EHT team announced in April 2019 that it had successfully imaged the shadow of a supermassive black hole in a nearby galaxy by combining observations from eight different radio telescopes spread across our planet. This technique, called interferometry, effectively gave the EHT the resolution, or the ability to distinguish sources in the sky, of an Earth-sized telescope. At the optical wavelengths underpinning the gorgeous pictures from the Hubble Space Telescope and many other famed facilities, today's interferometers can only combine light from instruments that are a few hundred meters apart at most. That may be set to change as astronomers turn to quantum physicists for help to start connecting optical telescopes that are tens, even hundreds, of kilometers away from one another.

Such optical interferometers would rely on advances being made in the field of quantum communications—particularly the development of devices that store the delicate quantum states of photons collected at each telescope. Called quantum hard drives (QHDs), these devices would be physically transported to a centralized location where the data from each telescope would be retrieved and combined with the others to collectively reveal details about some distant celestial object.

This technique is reminiscent of the iconic double-slit experiment, first performed by physicist Thomas Young in 1801, in which light falls on an opaque barrier that has two slits through which it can pass. The light recombines on the other side of the barrier, creating an interference pattern of bright and dark stripes, also known as an interferogram. This works even if individual photons trickle through the slits one by one: over time, the interference pattern will still emerge.
.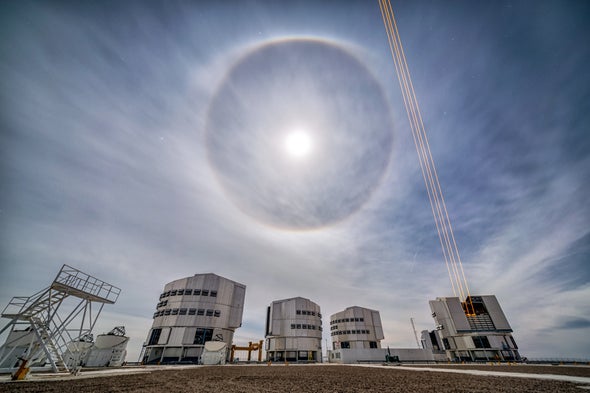 Composed of four 8.2-meter telescopes that can act as one, the European Southern Observatory's Very Large Telescope in northern Chile is the world's premier astronomical facility for optical interferometry. New approaches from the quantum world, however, could allow astronomers to make far larger and more capable optical interferometers. Credit: Juan Carlos Muñoz-Mateos/ESO
.
.
Click the link below for the article:
.
__________________________________________