Click the link below the picture
.
On February 18, 2021, NASA's Perseverance rover, the most complex scientific robot to ever journey to Mars,  finally landed. A suite of experiments onboard are fine-tuned to discover new secrets, confirm theories, and set up a future mission to return precious Martian soil to Earth.

But one of these experiments, buried in the cornucopia of science taking place on the SUV-sized rover, stems from a decades-long effort to record the sonic landscape on another planet. NASA is sending two microphones, the Entry Descent and Landing Microphone and the SuperCam microphone, to Mars. For the first time, we will be able to listen to the sounds of Percy's Entry, Descent, and Landing (EDL) sequence—the most gut-wrenching seven minutes of any Mars mission—and if all goes according to plan, the whistling winds of the Martian landscape itself.

I chatted with the two engineers who've made it their mission to record the sounds of the Red Planet. You can listen to an edited version of our conversations and the story behind Percy's microphones in the audio player below, or read the following transcript.

NASA's Perseverance rover is ready to make its debut on the Red Planet. The intrepid spacecraft is designed to search for signs of ancient microbial life on Mars, collect geologic samples for return to Earth and send the first helicopter into the skies of another world. That's just the beginning.

For the first time ever, two microphones aboard the spacecraft—the Entry Descent and Landing Cam microphone and the SuperCam Microphone—will sample Mars' sonic landscape. It could reshape our understanding of the Red Planet. It's a project that has been decades in the making. One that traces its origins back to the mid-90s and the Mars Polar Lander Mission.
.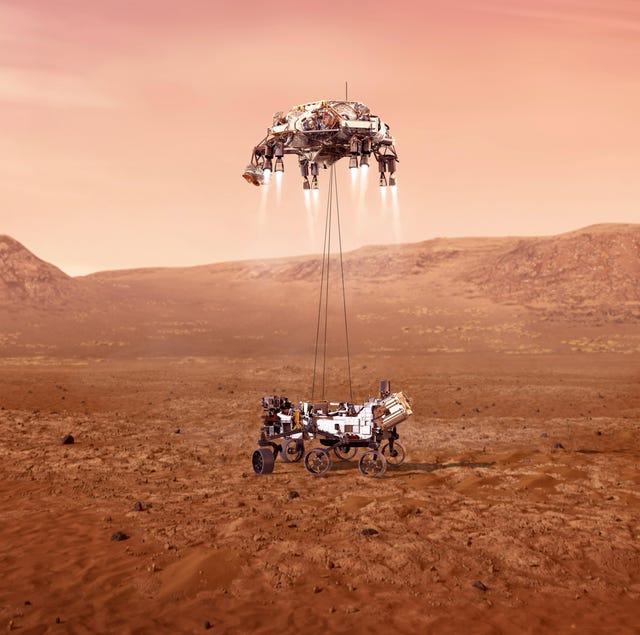 NASA/JPL-Caltech
.
.
Click the link below for the article:
.
__________________________________________