Click the link below the picture
.
How surreal is it that even as India and Brazil are at the gates of pandemic hell, much of Europe is still easing out of lockdown, parts of Canada remain shut down, and many in the United States are not yet vaccinated, a big, glitzy art fair was able to open in New York? Does the return of the fairs signal a return to the old business-as-frenzied-usual that, even pre-pandemic, everyone agreed had become obscene — an art world catering mainly to the ultrarich, performing power and price-fixing in plain view? Is it a sign of mindless addiction, of a market endlessly self-replicating — or is it an affirmation of art as a transformative force, a site of commonality and can-do spirit?

Last week saw the latest iteration of Frieze New York, the hippest of the hundreds of global art fairs that, pre-pandemic, had become some of the most economically risky but necessary components of financial survival on the nonstop money-go-round art-world trading floor. These fairs burned more spiritual and caloric energy than they ever put out. Greater and greater percentages of annual sales took place at these massive convergences, while gallery foot traffic dwindled and actual art shows went nearly unseen; galleries had to participate in fairs or go under. If they threatened to pull out, they risked triggering their artists' FOMO — and possibly defection for more monied pastures. It was a system no one liked but that no one knew how (or was willing) to stop because it supported thousands of galleries and tens of thousands of artists in sales. Even if many of those galleries and artists were no good, the art-fair system had the power to turn the art-world trickle-down into a gushing market firehose.
.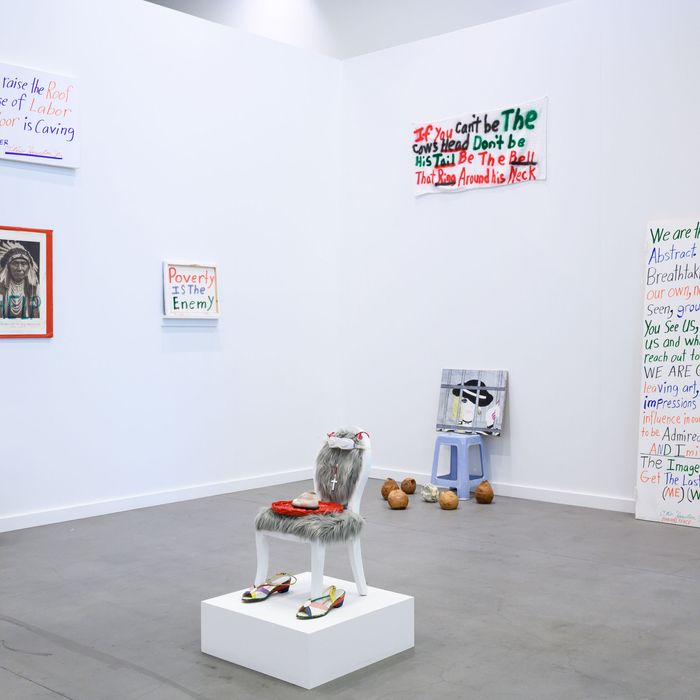 Work by Otis Houston Jr. at Gordon Robichaux's Frieze booth. Photo: Casey Kelbaugh
.
.
Click the link below for the article:
.
__________________________________________