Click the link below the picture
.
Frequent-flying "'super emitters" who represent just 1% of the world's population caused half of aviation's carbon emissions in 2018, according to a study.

Airlines produced a billion tonnes of CO2 and benefited from a $100bn (£75bn) subsidy by not paying for the climate damage they caused, the researchers estimated. The analysis draws together data to give the clearest global picture of the impact of frequent fliers.

Only 11% of the world's population took a flight in 2018 and 4% flew abroad. US air passengers have by far the biggest carbon footprint among rich countries. Its aviation emissions are bigger than the next 10 countries combined, including the UK, Japan, Germany, and Australia, the study reports.

The researchers said the study showed that an elite group enjoying frequent flights had a big impact on the climate crisis that affected everyone.

They said the 50% drop in passenger numbers in 2020 during the coronavirus pandemic should be an opportunity to make the aviation industry fairer and more sustainable. This could be done by putting green conditions on the huge bailouts governments were giving the industry, as had happened in France.
.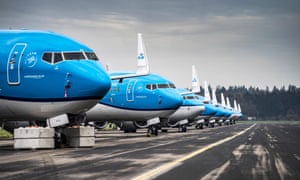 Grounded passenger planes at Groningen airport in Eelde, the Netherlands. Photograph: Siese Veenstra/EPA
.
.
Click the link below for the article:
.
__________________________________________