Click the link below the picture
.
The Japanese spider crab is a giant sea creature that lurks in the waters surrounding Japan. Gaming enthusiasts probably recognize this crustacean from the Animal Crossing: New Horizons video game, and bold Japanese foodies might enjoy this crab on their dinner table. The Japanese spider crab is thought to be the biggest crab in the world, with a leg span of up to 13 feet and an average weight of 40 pounds. It is also likely the crab with the longest lifespan, living to be up to 100 years old. Perhaps even more impressive, the spider crab is one of the oldest living species on Earth, dating back about 100 million years.

The Japanese spider crab's presence commands attention with its bright orange hue and 10 lengthy limbs. Its legs — which are plentiful enough to lock an enemy in a powerful embrace — are indeed the sea creature's most striking features.
.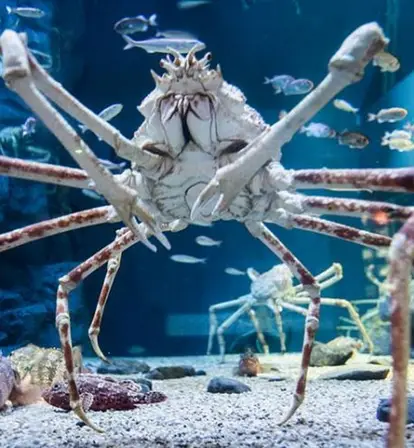 With a leg span of 13 feet, the Japanese spider crab is the biggest crab in the world — and the stuff of nightmares in Japanese folklore.
.
.
Click the link below for the article:
.
__________________________________________