Click the link below the picture
.
Classical musicians will have access to a huge library of interactive sheet music via a groundbreaking app that leading cultural figures say has the potential to revolutionize music-making.

Artificial intelligence experts working with musicologists at a Berlin startup have spent years gathering hundreds of thousands of published scores and creating digital editions of each of them.

The Enote app will give musicians the chance to interact with sheet music by instantly transposing it, switching between movements or measures, turning pages, changing the size of scores, and printing them on the go.

Boian Videnoff, the chief conductor of the Mannheim Philharmonic and one of Enote's founders, said he hatched the idea at his kitchen table with his university friend Josef Tufan after mounting frustrations over sheet music publishers' failure to make the leap into the digital world. Tufan, an IT management consultant, is a co-CEO.

"I had been complaining to Josef about why digitalization wasn't happening in the music world, and he was making fun of me having to drag a whole suitcase full of scores with me when I traveled. We decided together to tackle the problem," he said.

The result, more than five years later, is the world's first comprehensive library of native digital sheet music.
.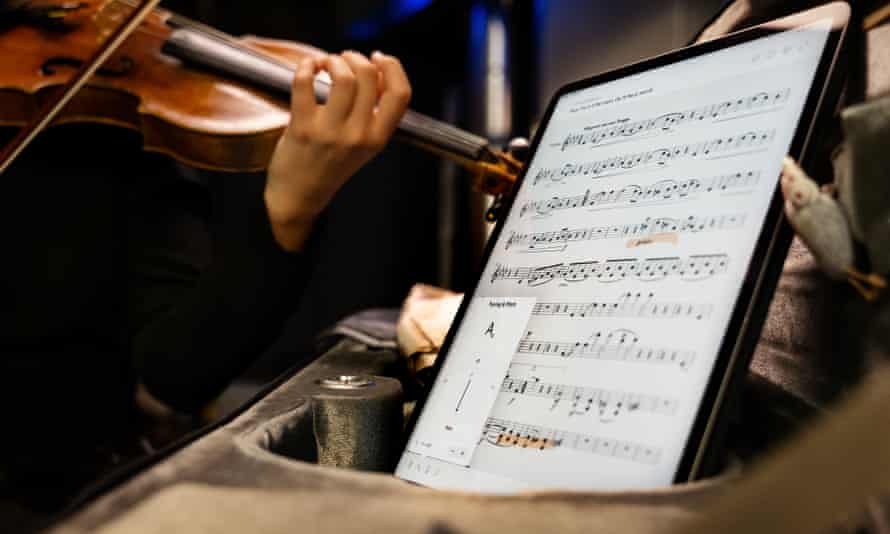 ENote in use on a tablet. Musical notation has been 'semantically reconstructed' using optical music-recognition technology.

Photograph: Daniel Wetze/Enote
.
.
Click the link below for the article:
.
__________________________________________