Click the link below the picture
.
We imagine soon to be ex-president Donald Trump's final tweets from the White House before the moving trucks pull up

Donald J. Trump @realDonaldTrump

SAD, I just heard that the ILLEGALS who built the White House did VERY SUBPAR work! Very reliable people are saying the West Wing could COLLAPSE any day! @seanhannity. So First Lady Melania & I will be temporarily moving out so we won't be in way of renovation …

The real work is just beginning …

… following Joe Biden's victory in the 2020 election. A majority of Americans chose a different path. These voters rejected four years of divisiveness, racism and sustained assaults on constitutional democracy – but it is clear that the country remains bitterly divided. Removing the sitting president from the White House is one thing, but fixing America is another – because many of the problems facing America pre-date President Trump.

As the country begins a new chapter, the need for robust, fact-based journalism that highlights injustice and also offers solutions is as great as ever. In addition to a pandemic, the new president will need to confront a divided country, a stark racial wealth gap, a climate crisis and an electoral college that increasingly favors a demographic minority to dominate the levers of power.

The Guardian welcomes the opportunity to refocus our journalism on the opportunities that lie ahead for America minus the distraction of a daily White House soap opera. We will focus on the need to fix a broken healthcare system, restore the role of science in public life, repair global alliances, and address the corrosive racial bias in our schools, criminal justice system, housing and other institutions.
.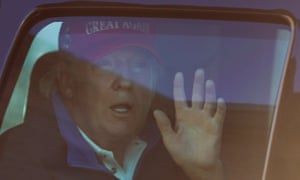 Donald Trump waves to supporters. Photograph: Carlos Barría/Reuters
.
.
Click the link below for the article:
.
__________________________________________