Click the link below the picture
.
Peter Doherty arrives with a black case containing a mysterious creature called Gladys in one hand and an odd-eyed husky called Zeus in the other, a huge sore on his chin and a pork pie hat. Pork pie hat aside, you never quite know what to expect from Doherty. Last time I interviewed him, it was in a hotel room with blood on the walls, a crack pipe on his bedside table and a motorbike in the corner that he kept revving until he fell asleep on it. That was in 2005 when Doherty was 25 years old and living the rock'n'roll dream – or nightmare.

He had been kicked out of the Libertines, a band hailed as the great literary punk rockers of their day, and was surrounded by creepy acolytes, hard men and beautiful young things (he was going out with Kate Moss). His very public addiction had attracted the attention of Newsnight and attempted interventions from June Brown (who played EastEnders' Dot Cotton). With his new band Babyshambles, he wrote a song that summed up everything he did and didn't believe in: Fuck Forever was perfectly ambiguous, celebrating his obsessions with sex and the transient.
.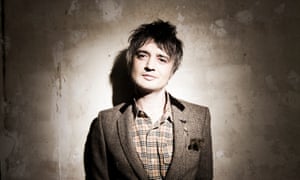 Peter Doherty: 'I love life. I squeeze everything I can out of the day.' Photograph: Roger Sargeant
.
.
Click the link below for the article:
https://www.theguardian.com/music/2019/apr/26/peter-doherty-if-i-was-drug-free-id-be-a-force-to-be-reckoned-with?utm_source=pocket-newtab
.
__________________________________________