Click link below picture
.
On the surface, Kim Jong-nam appeared to friends and acquaintances to be a quiet and jovial man who lived openly with his wife and two children in the gambling hub of Macau.

But a source close to Kim has revealed that the estranged half-brother of the secretive North Korean leader, Kim Jong-un, felt he had a "sword of Damocles" hanging over him, and lived in fear of being targeted by the regime.

The source, a former schoolfriend who asked to remain anonymous, told the Guardian he had seen Kim Jong-nam last year. "He was in Geneva a few months ago. He was thinking of moving there," he said.

"He was of course aware of the sword of Damocles above his head," he said, adding that Kim was considering relocating to Switzerland "or Europe, for that matter. Maybe Paris … but it was just talk at the time."

South Korea's intelligence agency has said Kim Jong-nam pleaded with his brother five years ago not to harm his family and to withdraw a standing order for his assassination.
.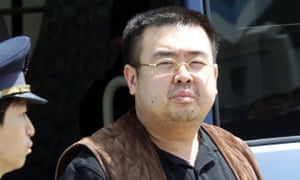 'He wasn't a big gambler' … Kim Jong-nam, who was assassinated on Monday, in 2001. Photograph: Toshifumi Kitamura/AFP/Getty Images
.
.
Click link below for article and video:
https://www.theguardian.com/world/2017/feb/16/kim-jong-nam-sword-damocles-half-brother-north-korean-heir-great-leader
.
__________________________________________