Click link below picture
.
Women might make up nearly half of all gamers, but they still face routine harassment and abuse in an industry overwhelmingly led by men. They don't need another reminder that the people creating their hardware barely register that they exist. But on Tuesday, women in gaming witnessed yet another boneheaded display of toxic masculinity, a poignant reflection of the tech industry's gender and diversity issues: hardware company Razer apparently throwing shade at Apple by telling it to suck its dick.

That collective groan you hear is Twitter asking, "Are you fucking kidding me?"

The tweet in question reads, "You call yourself Pro? S my D" — likely a reference to the new MacBook Pro's lack of an SD card slot. Razer computers have SD ports. Hence the cute "S my D" line.
.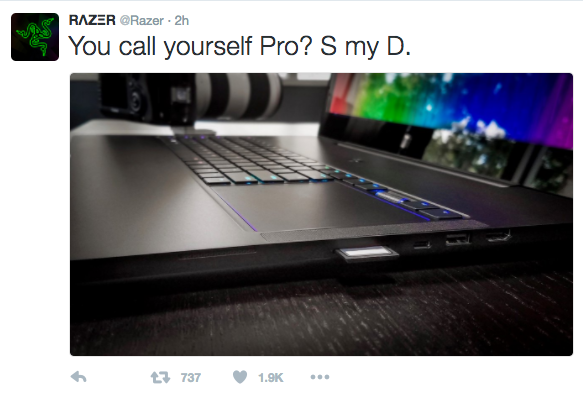 Razer's bad tweetSource: Twitter
.
.
Click link below for article and tweets:
https://mic.com/articles/158278/razer-computers-tweet-apple-s-my-d#.LrZiPwrFz
.
__________________________________________