Click the link below the picture
.
After losing her house to a fire, Jo Ann Ussery had a peculiar idea: to live in an airplane.

She bought an old Boeing 727 that was destined for the scrapyard, had it shipped to a plot of land she already owned, and spent six months renovating, doing most of the work by herself. By the end, she had a fully functional home, with over 1,500 square feet of living space, three bedrooms, two bathrooms, and even a hot tub — where the cockpit used to be. All for less than $30,000, or about $60,000 in today's money.

Ussery — a beautician from Benoit, Mississippi — had no professional connection to aviation and was following the offbeat suggestion of her brother-in-law, an air traffic controller. She lived in the plane from 1995 to 1999, when it was irreparably damaged after falling off the truck that was moving it to a different location nearby, where it would have been open for public display.

Although she wasn't the first person to ever live in an airplane, her flawless execution of the project had an inspirational effect. In the late 1990s, Bruce Campbell, an electrical engineer with a private pilot license, was awestruck by her story: "I was driving home and listening to [the radio,] and they had Jo Ann's story, and it was amazing I didn't drive off the road because my focus turned entirely to it. And the next morning I was placing phone calls," he says.
.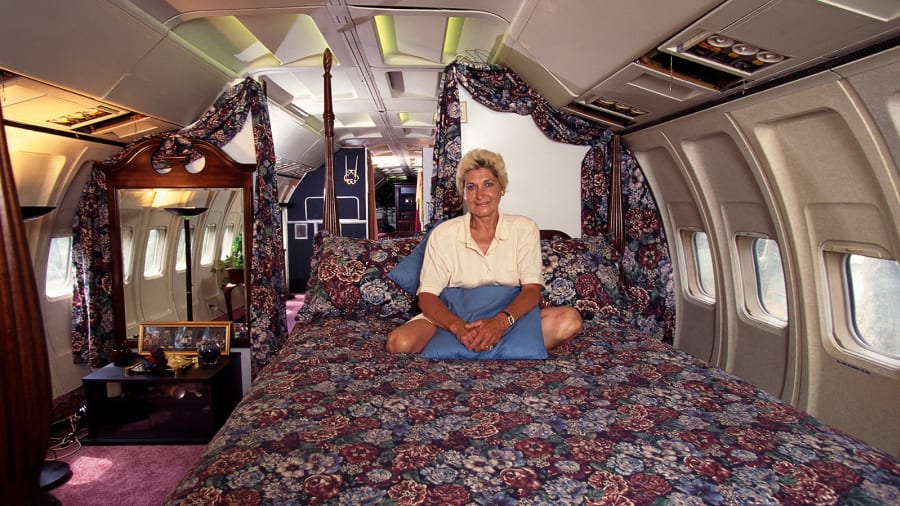 .
.
Click the link below for the article:
.
__________________________________________