Click the link below the picture
.
Every Q-tips box has a warning label: "Do not insert swab into ear canal," and if you're going to use it to clean your ears, gently swab the outer part only.

.
But extracting wax from our ear canals is precisely why most of us buy Q-tips in the first place. The humble Q-tip was so perfectly designed for this purpose that it turned into a generic word for a product.

Yet, somehow, we use it for the very thing it specifically warns us not to do.

The origins of this strange consumer phenomenon can be traced to Leo Gerstenzang, an immigrant from Poland.

In 1923, Gerstenzang supposedly thought he could improve upon his wife Ziuta's method of wrapping a wad of cotton around a toothpick to clean their newborn daughter Betty's eyes, ears, belly button, and other sensitive areas during bathing.

Gerstenzang started a company that year to develop and manufacture the first ready-made sterilized cotton swabs for baby care. Over the next couple of years, he worked to design a machine that could produce swabs "untouched by human hands."

"Baby Betty Gays" was the original working name for the swabs because daughter Betty laughed when her parents tickled her with them, according to her 2017 paid obituary. By the time Gerstenzang put out one of the first newspaper advertisements for his invention in 1925 it was shortened to "Baby Gays."

Soon, Gerstenzang changed the brand name to "Q-Tips Baby Gays." By the mid-1930s, "Baby Gays" was dropped from the name.

There are competing histories to where the "Q-tips" addition came from. According to a spokesperson for Unilever, (UL) the consumer goods conglomerate that bought Q-tips in 1987, the "Q" stands for "quality" and "tips" describes the cotton swab at the end of the stick (the first swabs were single-sided sold in sliding tin boxes).
.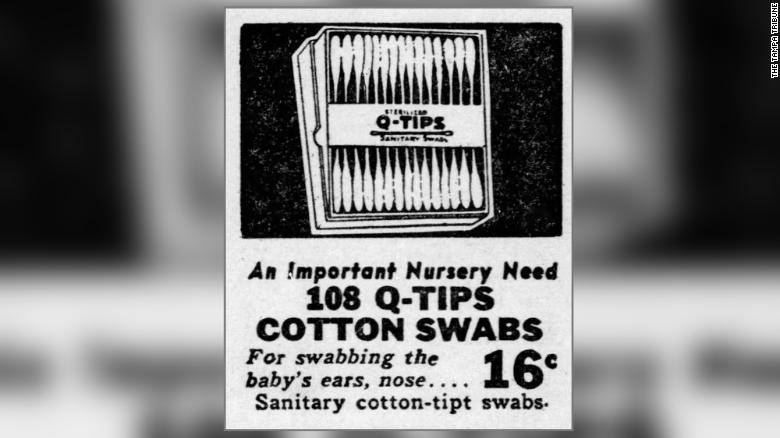 A Q-tips advertisement from 1945. Q-tips were originally designed for baby care.
.
.
Click the link below for the article:
.
__________________________________________