Click the link below the picture
.
On a series of 70-year-old photographic plates containing images of the night sky, a few astronomers say they've found something weird: flashes of light that appear and then disappear, like ghosts.

"We found one image where nine stars were out there, and they vanished. And they are not there half an hour earlier, and they are not there six days later," says Beatriz Villarroel, a postdoctoral researcher at the Nordic Institute for Theoretical Physics. "And you wonder, 'Is this real?'"

There isn't any readily available astronomical explanation for what these vanishing points of light, which the researchers call transients, might be. The dots might be defects in the photographic emulsions or image artifacts from when astronomers first scanned the plates. But in a series of recent papers, Villarroel and a small team of astronomers have been more seriously probing the possibility that the flashes might be something more exciting — extraterrestrial objects.

A shiny, spinning object passing by Earth would leave a line of dots in a long-exposure image of the night sky. Asteroids or meteors aren't likely to look like that — most asteroids are dark, and meteors are moving so fast they'd look like streaks. And, most intriguingly for the researchers, there weren't any satellites in the night sky when the images were taken, as all the plates were before the launch of Sputnik.

Still, Villarroel and colleagues haven't ruled out Earthly explanations for these tantalizing dots. And there's a long history of events associated with the search for extraterrestrial intelligence (SETI) fizzling out under closer scrutiny.
.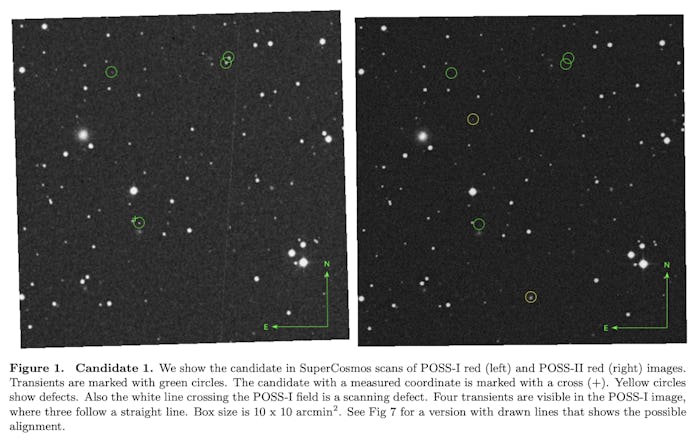 .
.
Click the link below for the article:
.
__________________________________________