Click the link below the picture
.
As a young course instructor in seminars for medical students, I faithfully taught neurophysiology by the book, enthusiastically explaining how the brain perceives the world and controls the body. Sensory stimuli from the eyes, ears, and such are converted to electrical signals and then transmitted to the relevant parts of the sensory cortex that process these inputs and induce perception. To initiate a movement, impulses from the motor cortex instruct the spinal cord neurons to produce muscular contraction.

Most students were happy with my textbook explanations of the brain's input-output mechanisms. Yet a minority—the clever ones—always asked a series of awkward questions. "Where in the brain does perception occur?" "What initiates a finger movement before cells in the motor cortex fire?" I would always dispatch their queries with a simple answer: "That all happens in the neocortex." Then I would skillfully change the subject or use a few obscure Latin terms that my students did not really understand but that seemed scientific enough so that my authoritative-sounding accounts temporarily satisfied them.

Like other young researchers, I began my investigation of the brain without worrying much whether this perception-action theoretical framework was right or wrong. I was happy for many years with my own progress and the spectacular discoveries that gradually evolved into what became known in the 1960s as the field of "neuroscience." Yet my inability to give satisfactory answers to the legitimate questions of my smartest students has haunted me ever since. I had to wrestle with the difficulty of trying to explain something that I didn't really understand.
.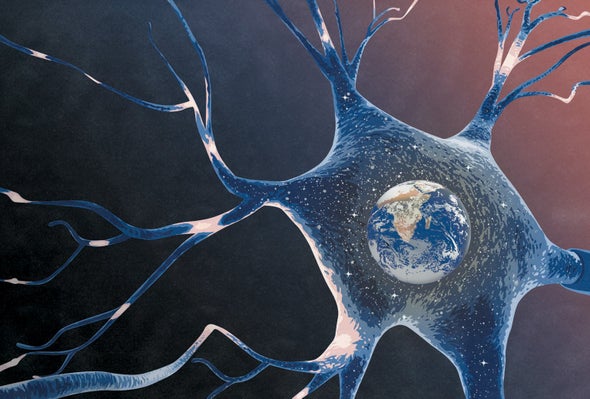 Credit: Stefania Infante
.
.
Click the link below for the article:
.
__________________________________________