Click the link below the picture
.
NASA's Voyager 1 probe, the farthest human-made object from Earth, seems to be a little confused about what is going on in its distant location in interstellar space. 

The long-lived probe and its twin, Voyager 2, were launched on their epic space journeys in 1977 and are the first spacecraft ever to reach interstellar space, which is the great cosmic expanse beyond the dominant influence of the Sun.

But lately, Voyager 1 has been sending "invalid data" about its journey into this unexplored frontier, according to a NASA statement released on Wednesday. The glitch is affecting the probe's attitude articulation and control system (AACS), which orients the spacecraft on its travels, and ensures that its communication antenna faces Earth. While the AACS system is correctly pointed toward Earth, it has started babbling "random" telemetry data and other gibberish about the probe being in positions that are not possible, NASA said.

"A mystery like this is sort of par for the course at this stage of the Voyager mission," said Suzanne Dodd, project manager for Voyager 1 and 2 at NASA's Jet Propulsion Laboratory, in the statement. "The spacecraft are both almost 45 years old, which is far beyond what the mission planners anticipated." 
.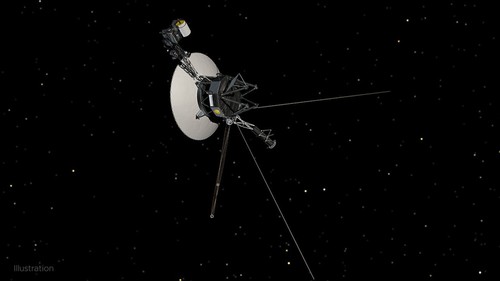 Illustration of Voyager 1. Image: NASA/JPL-Caltech
.
.
Click the link below for the article:
.
__________________________________________