Click the link below the picture
.
When did you last eat? Did you "breakfast like a king" as the saying goes, or skip it to hit a 14-hour fast? While "good" and "bad" foods have been ingrained in us from an early age, there's more to eating than simply what's on our plates. "Timing is a crucial factor," says Jeannette Hyde, nutritional therapist and author of The 10 Hour Diet. "Looking at the optimum times to eat can help your weight, but also brings down inflammation and helps you sleep better."

Intermittent fasting has rocketed in popularity over the years, from the 5:2 diet (where you eat normally for five days, and heavily restrict your calorie intake on the others) to aligning mealtimes with our circadian rhythms (the body's internal clock) and time-restricted eating. It's the latter Hyde has adopted, consuming food within a 10-hour time window and fasting for 14 hours overnight – "Some people will start at 8am and finish at 6pm, others start at 10am and finish at 8pm" – to improve her metabolism and gut health.

Nutritionist Rhiannon Lambert, meanwhile, believes it's more what you eat than when. "Your nutrition is so much more than a time schedule or a number [of meals]," she says. "The foods you choose to consume on a day-to-day basis will have a knock-on impact on your overall health." A balanced plate, Lambert adds, should include a handful of carbs (rice, pasta, spelt, barley, for example), an outstretched handful of protein (chicken, salmon, pulses, tofu), two handfuls of veg (variety is good), and a thumb-sized portion of fat (olive oil for cooking), but how many meals you choose to eat, and their size, comes down to personal preference, lifestyle, and health goals. If, for example, someone had a body fat-loss goal and was more sedentary in the evening, Lambert suggests that a smaller portion at dinner than lunch would make sense.
.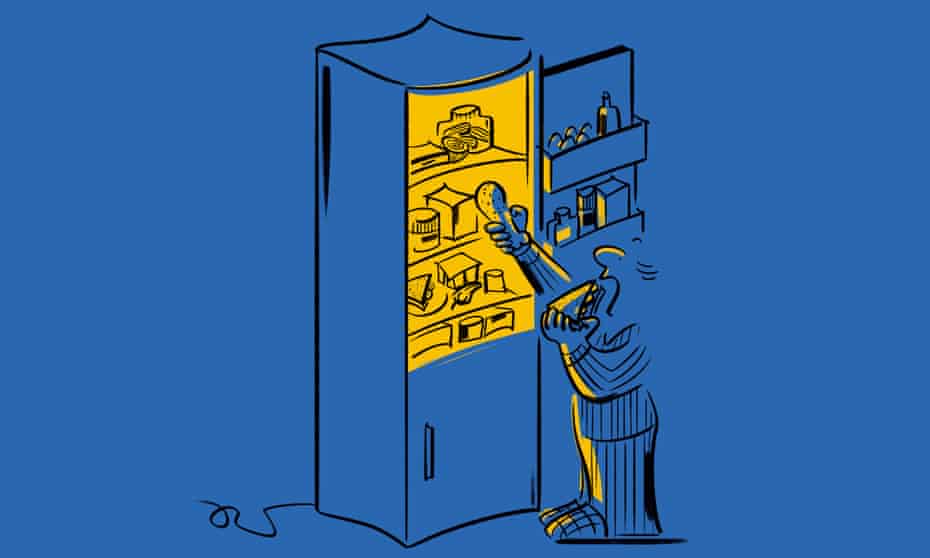 No more midnight fridge raids. Illustration: Lalalimola/The Guardian
.
.
Click the link below for the article:
.
__________________________________________