Click the link below the picture
.
The heart of NASA's Space Launch System arrived at Kennedy Space Center last April as the agency's first human-rated deep-space rocket in 50 years.

The 212-foot core stage rocket, along with a pair of solid rocket boosters, and the Orion crew module largely make up the Space Launch System (SLS), which NASA is counting on for its Artemis program's 2026 return to the moon—a feat the agency last accomplished with Apollo 17 in 1972.

Despite the decades between manned lunar launches, the SLS relies on a workhorse from the shuttle program. Mounted at the bottom of the core stage are four RS-25 engines—formerly called the Space Shuttle Main Engine (SSME)—supplied by Aerojet Rocketdyne. Originally designed in the 1970s, the engines are seasoned, upgraded veterans, with 25 previous space shuttle flights among them. Among the four engines mounted to the SLS are numbers 2045 and 2060, both used on July 8, 2011, to launch the shuttle's final mission, STS-135. Doug Bradley was at Kennedy Space Center during that launch, working as a chief engineer for Rocketdyne. "I've been to many flights, but it was different for 135," Bradley says. "It was electric. It was a very emotional flight."

The retirement of the space shuttle left Rocketdyne with a backlog of 16 engines, which the company mothballed. It was sad, says Bradley, to see them decommissioned when they could have flown dozens more missions.
.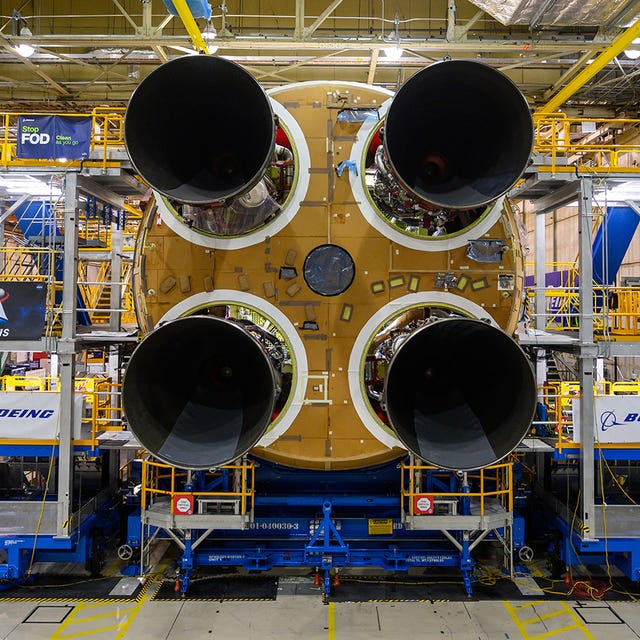 NASA/ERIC BORDELON
.
.
Click the link below for the article:
.
__________________________________________