Click the link below the picture
.
Scientists have discovered a class of never-before-seen waves inside the Sun that move in the opposite direction of its rotation and travel so fast that they defy explanation. The "as-yet-undetermined nature of these waves promises novel physics and fresh insight into solar dynamics," reports a new study.

The waves were serendipitously spotted by Chris Hanson, a research associate at New York University Abu Dhabi, and his colleagues, as the researchers scoured through decades of solar observations. The team was trying to answer a completely different question about the Sun when they noticed swirling patterns on its surface caused by these "high-frequency retrograde (HFR) waves," according to a study published on Thursday in Nature Astronomy. 
.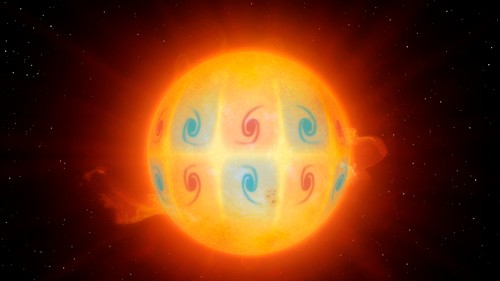 An artistic impression of the high-frequency retrograde (HFR) vorticity waves. Image: NYU Abu Dhabi
.
.
Click the link below for the article:
.
__________________________________________