Click the link below the picture
.
The James Webb Space Telescope (Webb) has released its first sharp image and it is a doozy — a spectacular view of a twinkling orange star that is focused with such sharpness that it pushes the limits of the laws of physics. 

The image shows that the telescope's 18 separate mirrors are now accurately aligned and acting as one, and the photo is even better than scientists hoped it would be, NASA officials said in a statement.

The Webb team released the photograph of the Milky Way star, designated 2MASS J17554042+6551277, and located roughly 2,000 light-years away, Wednesday (March 16). It was taken with a red filter to maximize the visual contrast between the star and the blackness of space, while dozens of other stars and distant galaxies can be seen in the background.

According to BBC News, the image shows that the optical systems of the new space telescope are now working better than the scientists and engineers had hoped.

"You not only see the star and the spikes from the diffraction of the star, but you see other stars in the field that are tightly focused, just like we expect, and all sorts of other interesting structure in the background," Webb engineer Lee Feinberg told reporters at the NASA news conference Wednesday. "We've actually done very detailed analysis of the images we're getting, and so far, what we're finding is that the performance is as good [as], if not better than, our most optimistic prediction."

The image is the result of the "fine phasing" stage of the mirror alignments, in which every optical parameter is checked to verify that the telescope can successfully gather light from distant objects, NASA said in the statement.  
.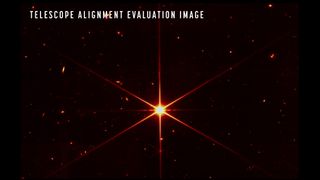 An image taken by the James Webb Space Telescope during its alignment process shows galaxies and stars in the background. (Image credit: NASA/STScI)
.
.
Click the link below for the article:
.
__________________________________________