Click the link below the picture
.
Most universities have endowment funds — money donated to the school to support its endeavors. Most endowment funds are invested with the goal of generating even more money to sustain the university in the long term. But what if that money is actively making the future worse? Students at five universities believe by investing in fossil fuel companies, their schools are perpetuating the climate crisis — and they're looking to take legal action to stop it.

According to a report from The Guardian, students at Yale, Massachusetts Institute of Technology, Princeton, Stanford, and Vanderbilt are hoping to spark legal action that will force their universities to divest from fossil fuels. With the help of the Climate Defense Project, the students have reached out to the attorneys general in their respective states and asked for each school to be investigated for using its endowment funds for illegitimate purposes.

The legal approach here relies on a somewhat obscure law known as the Prudent Management of Institutional Funds Act. Under this law, which was passed in 2012, nonprofit organizations are required to manage their endowment in a way that is consistent with the organization's "charitable purposes." Basically: If you're going to invest money that has been handed to you by donors, you have to use it to further your overall mission. Colleges are ostensibly helping to form a better future by instilling students with a foundational education and the skills they need to improve society. But it's not great if the world waiting for them beyond those hallowed halls is a wasteland of natural disasters and barely livable environmental conditions — all egged on by their own schools.

So the kids may have a point there.
.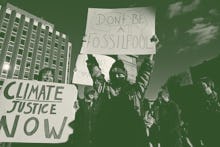 Students from five high-profile universities have asked attorneys general, to investigate their schools' investments in fossil fuels.
.
.
Click the link below for the article:
.
__________________________________________