Click the link below the picture
.
Scientists at Australian National University may have discovered the oldest stars in the Milky Way, formed before the galaxy itself, a discovery they say is as likely as finding a "needle in a haystack." The research adds to scientists' growing understanding of how the galaxy came to be. 

What researchers described as a groundbreaking study, published Wednesday in the journal Nature, details the discovery of nine stars found at the center of the Milky Way with traits suggesting they were some of the first stars ever formed. Scientists said the stars dated to roughly 13.6 billion years ago or some 200 million years — a relatively short time frame when talking about the universe — after the Big Bang, the leading theory of how the universe was born. 

"These pristine stars are among the oldest surviving stars in the Universe, and certainly the oldest stars we have ever seen," Louise Howes, the study's lead author, said in a statement. 

The fact that these stars were discovered in the center of the Milky Way alone suggests they're older than most stars. Howes said the Milky Way formed around the galaxy's oldest stars. 

The makeup of a really old star: These newly discovered stars are mostly pure energy, with low levels of carbon and iron, which contradicts scientists' theory the early universe was laden with these elements. It's long been believed the first stars exploded as a supernova, which would make the stars dense with heavy elements and less energy. 
.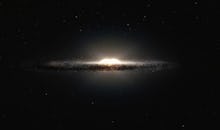 Milky Way
.
.
Click the link below for the article:
.
__________________________________________