Click the link below the picture
.
When the Rosetta space probe sent back its first close-up pictures of a comet last year, scientists got a bit of a surprise: Instead of the ball of rock and ice they had expected, the comet turned out to have two distinct lobes connected by a "neck."

Some said it looked like a giant rubber duck. Researchers have now concluded that the comet 67P Churyumov-Gerasimenko was probably formed when two separate objects collided during the early stages of the solar system, according to a paper published Monday in the journal Nature.

Using data collected by the OSIRIS cameras onboard Rosetta, scientists were able to determine that the flat planes and arcs on 67P's surface are in fact terraces that wrap around the two lobes like layers around an onion. "For the first time, this study gives observational evidence on how the primordial bodies formed," said Matteo Massironi, one of the study's authors.

Thanks to the high resolution of the images, scientists were able to see that the layers on the larger lobe — some up to 650 meters (2,130 feet) thick — are independent of the layers on the smaller lobe. In essence, this means the comet is made of two separate cores.
.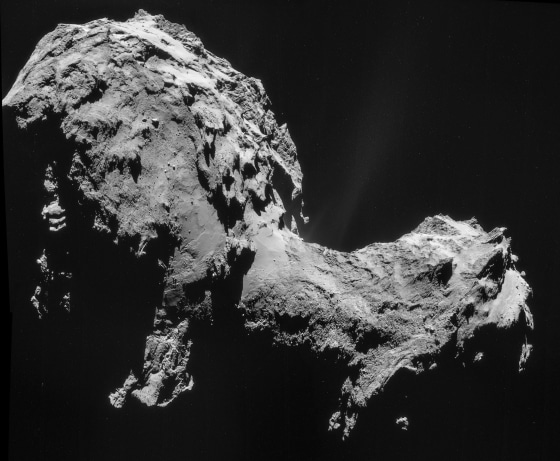 A file handout photo released on September 19, 2014, by the European Space Agency shows a four-image NAVCAM mosaic of Comet 67P/Churyumov-Gerasimenko. The characteristic "rubber duck" shape of the comet was the result of a low-velocity impact billions of years ago between two objects which fused, a study said on September 28, 2015.AFP – Getty Images
.
.
Click the link below for the article:
.
__________________________________________