Click the link below the picture
.
Before the dinosaur age, the coelacanth — a hefty, mysterious fish that now breathes with its gills — sported a well-developed lung, a new study finds.

This lung likely helped the fish survive in low-oxygen, shallow waters hundreds of millions of years ago, the researchers said. During the Mesozoic era, more commonly known as the dinosaur age, it's likely that some species of coelacanth (see-leh-kanth) moved to deeper waters, stopped using their lungs, and began relying exclusively on their gills to breathe, the researchers said.

This adaptation to deep water likely helped coelacanths survive the asteroid that slammed into ancient Earth and killed the nonavian dinosaurs, the researchers said. The fish's gill- and lung-breathing relatives were not as lucky; during the Late Cretaceous period, about 66 million years ago, coelacanths living in shallow waters disappear from the fossil record, they said.
.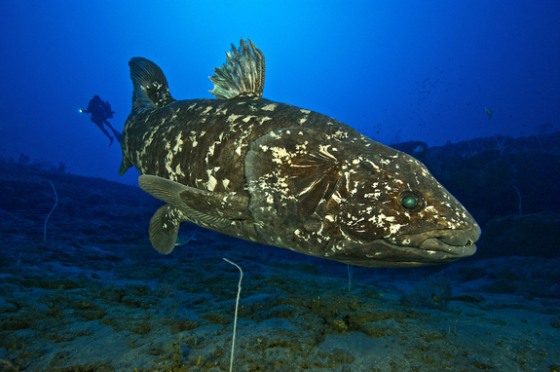 At a 427-foot depth off Sodwana Bay in South Africa, the extant coelacanth L. chalumnae swims in its natural environment.Laurent Ballesta / Andromede Oceanology Ltd
.
.
Click the link below for the article:
.
__________________________________________