Click the link below the picture
.

On February 18, if all goes according to plan, Perseverance, NASA's latest-and-greatest rover, will land on Mars. Around 3 PM EST, Percy will attempt its tricky Entry, Descent, and Landing (EDL) maneuver. If it survives the experience, Percy will join the Curiosity rover as humanity's foremost interplanetary explorers.

To get this tricky orbital choreography just right, NASA pushed forward with the $2.7 billion mission despite the spread of the novel coronavirus. "It's very expensive if we have to take Perseverance and put it back in storage for a period of two years," NASA Administrator Jim Bridenstine, said at a June 17 press conference.

Perseverance wasn't the only mission hoping to take advantage of the orbital alignment. China National Space Administration rover (and orbiter) Tianwen-1 arrived at the Red Planet last week, and the United Arab Emirates' Hope Mars orbiter arrived as well. ESA and Roscosmos were supposed to launch their ExoMars rover, dubbed Rosalind Franklin, in summer 2020, but work was delayed due to the spread of the coronavirus and the agencies postponed the launch. The rover will blast off in about two years.

NASA hopes that its newest rover, designed and developed in cooperation with partners from the European Space Agency, as well as researchers from Norway, Spain, and France—will be the first to find evidence of life outside of our pale, blue dot. 
.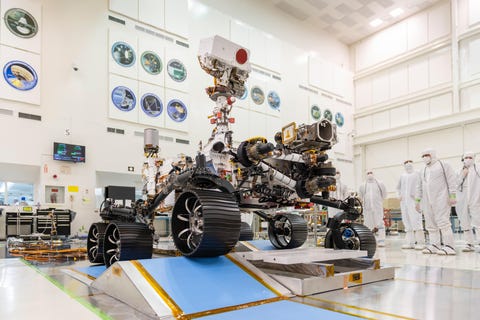 NASA/JPL-Caltech
.
.
Click the link below for the article:
.
__________________________________________