Click the link below the picture
.
A group of ten Republican senators has made a $600 billion counteroffer to President Biden's $1.9 trillion economic-rescue plan. The media has treated this negotiation as a mere formality, the prelude Biden will briefly entertain before getting down to the business of passing a real bill through budget reconciliation.

That may be so. But there is a chance the two sides can actually make a deal. And the best way to do that is to enhance its flexibility so that the Democratic fear of spending too little and the Republican fear of spending too much can both be resolved.

Democrats are haunted by the experience of 2009 and are determined not to repeat its errors. Congressional leadership bound itself to a 60-vote threshold that required getting support from at least two Republican senators, who in turn bargained down the size of the bill out of an arbitrary belief that a trillion dollars was too much to spend. The economic contraction wound up considerably deeper than economists realized at the time, and the administration had trouble getting votes for more stimulus later, and the slow growth that resulted punished Democratic members of Congress.

The lesson many Democrats have drawn is that they have to ensure that Biden doesn't get saddled with a stimulus that's underpowered. "The only thing we cannot accept" is a bill that is "too small or too narrow," says Senate Majority Leader Chuck Schumer, who cites the lessons of 2009. "Democrats can't assume we will have bite after bite at the apple, particularly with Republican state legislatures working overtime to entrench minority rule through redistricting," Oregon Senator Ron Wyden tells Greg Sargent. "The only surefire way to prevent economic sabotage is to pass the bold economic relief that's needed now."
.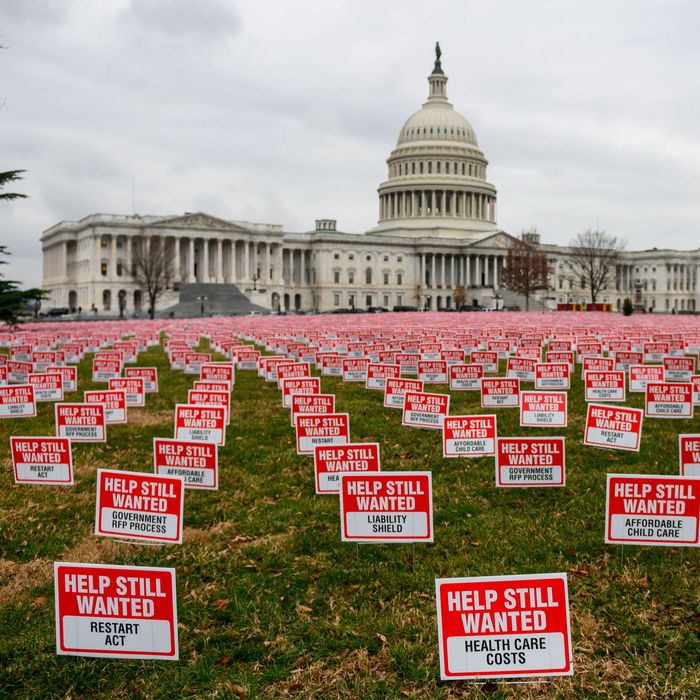 Photo: ANDREW CABALLERO-REYNOLDS/AFP via Getty Images
.
.
Click the link below for the article:
.
__________________________________________