Click the link below the picture
.
For all of GOP representative Marjorie Taylor Greene's protestations (repeated Friday in a defiant statement) that she's a victim of "cancel culture" and the "radical, left-wing mob" and the "Fake News media," the controversy surrounding the freshman congresswoman is entirely of her own making. Before (but not long before) she ran for Congress in 2020 — after switching districts to find somewhere her heavy bankroll could gain her instant viability — Greene unburdened herself at extraordinary length on social media, particularly Facebook, on various fringe topics. At first, observers mostly noticed her utterances explaining and embracing the QAnon conspiracy theory. Additional digging has since uncovered statements that make a mere stipulation that her and Trump's enemies are Satan-worshiping pedophiles seem tame. They include, per Intelligencer's Jonathan Chait:
• Muslims don't belong in government.

• 9/11 was an inside job.

• Shootings at Parkland, Sandy Hook, and Las Vegas were staged.

• "Zionist supremacists" are secretly masterminding Muslim immigration to Europe in a scheme to outbreed white people.

• Leading Democratic officials should be executed.

The most recent Greene view to be unearthed comes via Eric Hananoki. Just over two years ago, Greene suggested in a Facebook post that wildfires in California were not natural. Forests don't just catch fire, you know. Rather, the blazes had been started by PG&E, in conjunction with the Rothschilds, using a space laser, in order to clear room for a high-speed rail project.
The now-congresswoman from the 14th district of Georgia has continued to burnish her reputation for insanely irresponsible extremism, most recently by becoming the wildest of wild supporters of Trump's election-coup scheme and his underlying (and lying) claims the 2020 election was stolen.
.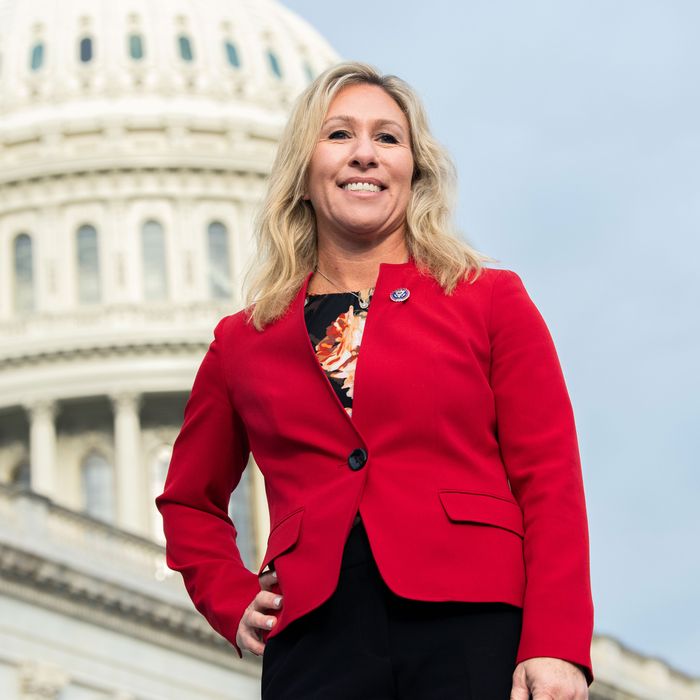 Right now she is unbloodied and unbowed. Photo: Tom Williams/CQ-Roll Call, Inc via Getty Imag
.
.
Click the link below for the article:
.
__________________________________________