Click the link below the picture
.
Serena Williams advanced to the Rogers Cup semi-finals Friday night, beating soon-to-be-top-ranked Naomi Osaka of Japan 6-3, 6-4 at breezy at York University.

Playing her first event since losing the Wimbledon final, Williams faced Osaka for the first time since losing to her last year in the US Open final.

"I knew her game a little bit more, so that's a little easier. I'm just overall a little bit better," Williams said. "I know her game. I watch her a lot. I know what I need to do to hopefully try to get a win today, and it helped a little bit. I go into every match thinking I can do it, but sometimes that doesn't happen.
.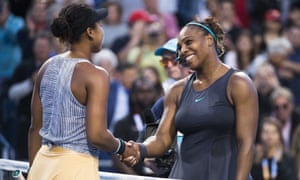 Serena Williams beat Naomi Osaka in their first meeting since last year's US Open final. Photograph: Canadian Press/REX/Shutterstock
.
.
Click the link below for article:
.
__________________________________________