Click link below picture
.
It's been difficult to watch the Christian community embrace a person like Donald Trump. Evangelicals have had to perform mental gymnastics to pretend Donald Trump felt about religion anything close to what they claim to feel. This was supposed to be the "family values" party. Mike Pence, who won't even have dinner with a woman other than his wife, suddenly doesn't mind that Trump had babies with three different women and said on tape that he liked to grab women by the p***y.
Trump might be a lying, scheming, narcissistic con-artist but he doesn't pretend to be religious. Sure, he faked it a couple of times by holding up a Bible with pages looking like they'd never been opened. He also tried quoting some scriptures but that went horribly wrong when he said "Two Corinthians" instead of "Second Corinthians." But he doesn't claim to consult God before making decisions.
As for family values, Trump's been married three times, dumping each wife for the woman he was having an affair with. His wives raise his kids for him. On the Howard Stern show, Trump said "I mean, I won't do anything to take care of them. I'll supply funds and she'll take care of the kids. It's not like I'm gonna be walking the kids down Central Park." Other than his adult children who run his businesses, we never see Trump spending time with his kids. There are a couple of photo-ops with his 10-year old, Barron. But instead of golfing at his resorts, shouldn't Trump spend time with his, um, you know, 10 year old? He also has another daughter who is around so infrequently most people don't remember her name. Obviously, Trump will never be mistaken for the dad from Leave It To Beaver.
.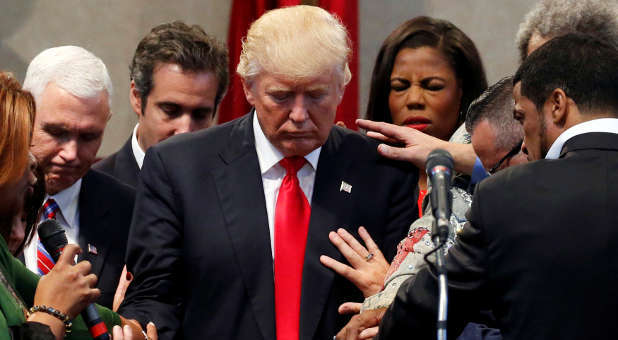 .
.
Click link below for article and video:
https://www.huffingtonpost.com/entry/trump-exposes-religious-folks_us_597dd8a9e4b06b305561d1ac
.
__________________________________________