Click the link below the picture
.
One of the more unsettling discoveries in the past half-century is that the universe is not locally real. "Real," meaning that objects have definite properties independent of observation—an apple can be red even when no one is looking; "local" means objects can only be influenced by their surroundings, and that any influence cannot travel faster than light. Investigations at the frontiers of quantum physics have found that these things cannot both be true. Instead, the evidence shows objects are not influenced solely by their surroundings and they may also lack definite properties prior to measurement. As Albert Einstein famously bemoaned to a friend, "Do you really believe the moon is not there when you are not looking at it?"

This is, of course, deeply contrary to our everyday experiences. To paraphrase Douglas Adams, the demise of local realism has made a lot of people very angry and been widely regarded as a bad move.

Blame for this achievement has now been laid squarely on the shoulders of three physicists: John Clauser, Alain Aspect, and Anton Zeilinger. They equally split the 2022 Nobel Prize in Physics "for experiments with entangled photons, establishing the violation of Bell inequalities and pioneering quantum information science." ("Bell inequalities" refers to the pioneering work of the Northern Irish physicist John Stewart Bell, who laid the foundations for this year's Physics Nobel in the early 1960s.) Colleagues agreed that the trio had it coming, deserving this reckoning for overthrowing reality as we know it. "It is fantastic news. It was long overdue," says Sandu Popescu, a quantum physicist at the University of Bristol. "Without any doubt, the prize is well-deserved."
.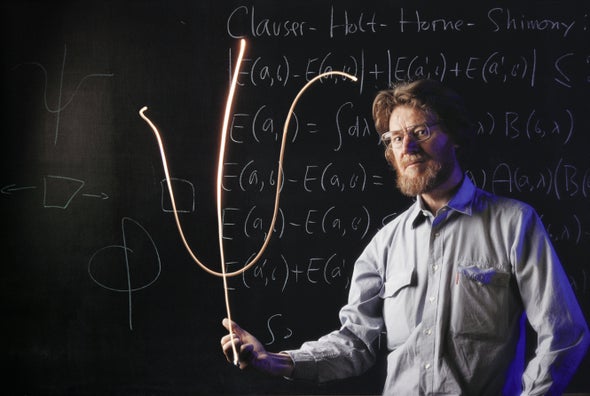 John Stewart Bell (1928–1990), the Northern Irish physicist whose work sparked a quiet revolution in quantum physics. Credit: Peter Menzel/Science Source
.
.
Click the link below for the article:
.
__________________________________________